Leap Dance/'Trace'
A Humber Mouth Special Commission
Wyke College has a strong reputation for performance and dance, and Leap Dance Company was set up a few years ago to provide a stepping stone for dance students who wished to move on to professional careers. Hull has no resident dance company other than Leap, and it is to be hoped that their efforts might produce more interest in the medium and/or attract another company to the area.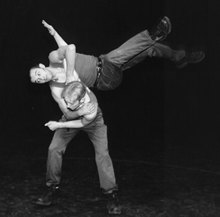 Leap performed to a small audience on Saturday, which was a shame, and presented three pieces, two which they perform in schools in the area, and one commissioned specially for the Humber Mouth 2000. The first two pieces were choreographed by the students. 'George's Marvelous Medicine' is based on a story by Roald Dahl and depicts the transformation of a small boy's staid and bossy grandmother into someone more extraordinary. The dance was polished and presented with confidence and the dancers clearly enjoyed their performance. While being relatively unchallenging, one can see that the piece would appeal to its target audience of school children.
The second piece, 'Wicked', was slightly more ambitious, and was an original narrative about bullying and friendship. Both pieces suffered from some needless repetition and had a tendency to stay within fairly limited technical parameters. Given this, it was refreshing that the third piece, 'Trace' stretched the capabilities of the dancers and incorporated other media (photography).
'Trace' was choreographed by Mark Pearce, a former member of Leap who has recently returned from a tour with the internationally acclaimed company Adventures in Motion Pictures.
'Trace' depicts images of Hull's past and future, and is performed in front of a video backdrop showing the Humber as it moves out to sea. The piece is impressionistic and lyrical, and demonstrates a maturity which the earlier pieces lack. This is to be expected, given that Pearce has considerably more experience than the younger members of Leap. This should point the way for Leap to develop further, and it is to their credit that they are capable of producing dancers who go on to perform at national level. One hopes that the experience of working with Pearce will increase their confidence and range further, and that they continue to offer a space for local students of dance to develop their skills.
Wyke Sixth Form College - www.wyke.ac.uk