Deep Research Facility
The Deep's Research Facility promotes the concept of 'science for everyone' and aims to increase the public understanding of science by breaking down the barriers between scientists and non-scientists.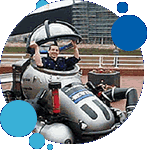 Researchers at the facility interact with a wide variety of national and international research projects, thus developing links to other universities.
The main theme is to understand environmental processes that influence conservation programmes and the sustainable use of resources. It further enhances the reputation of the City and region world wide as a 'Centre of Excellence' in marine and environmental sciences.
In addition there will be programmes to demonstrate important science concepts in an attractive and imaginative way. These might include showing how a gravel beach develops or illustrating the tidal flow and sediment movement around the Humber Bridge.
For those interested, these pages show our research and conservation strategy and our collection plan. Click the links in the table below to view some of the research and campaigning work in which we've been involved.