HULL & HUMBER
Hull is not mentioned in the Domesday Book, but it is almost certain that people have been trading from the point where the River Hull joins the River Humber since before 1066. Trading ships regularly sailed majestically up the River Hull to the major port of Beverley.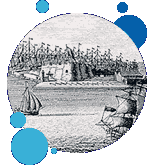 Soon the haven in the River Hull was trading in wool and wine with Flanders in France. A port developed on the west bank of the river and by the Middle Ages defensive walls surrounded the vital port to the west and north, with the two rivers completing the defences. So important had trade become to the port that King Edward I granted a charter and the town became 'Kingstown-upon-Hull' in 1299.
The River Hull was and remains today, the main area for ships to unload their cargoes. From The Deep, you can see the warehouses and the staithes that lead from the River Hull to the High Street.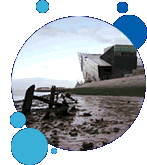 As the trade in the river expanded it became too crowded to be able to unload easily and new docks were built in the late eighteenth and early nineteenth century following the lines of the old town walls. These docks are now home to the Marina, Princes Quay shopping centre and Queens Gardens, with the main docks being along the River Humber and home to the 'super ferries' sailing to the continent.
At the start of a new millennium Hull is still earning a living from the sea. The wool trade has gone, whaling a distant memory and the fishing industry only a minor activity in comparison to its heyday but the confluence of the River Humber and Hull marks the place where you will find The Deep, a new venture to earn a living from its two rivers and their links with the oceans of the world.