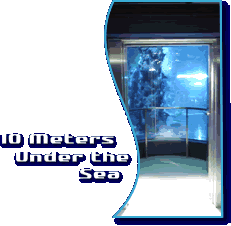 A DIVER'S EYE VIEW OF THE OCEAN
Exit Deep Blue One and find yourself on the great ocean floor!
Dare to walk through the deepest viewing tunnel in Europe and find yourself 10 metres under the sea as the sharks circle above!
THE WORLD'S ONLY UNDERWATER LIFT
When you have gone as deep as you can go, rise to the surface with a ride in the world's only underwater lift!
The amazing acrylic lift takes you through the water in the main tank. Come face to face with sharks and rays as you get a diver's eye view of the ocean!
For those who prefer the stairs, the acyrlic staircase gives you a view into the main tank on every floor.