7.30pm FREE
Launch event at Hull Screen, Hull Central Library
For more information and bookings ring ArtLink ExChange (01482) 345104
ArtLink ExChange presents: 'Silent Scream'

Women survivors of domestic violence have worked with writer Glynis Charlton to explore their experiences. The work created includes household objects, such as a clock and a lampshade, printed with potent text. These pieces can be viewed at the Carers Centre, The Shirethorn Centre, 37-42 Prospect St, from Nov 12th - 21st during office hours, before touring local women's centres.
You are warmly invited to a launch event at Hull Screen which will feature audio recording of the writings linked with music, plus visual representations. Extracts will also appear within a calendar.
---
Monday 12th November
8.00pm £5 (Conc £3)
Hull Truck Theatre, Spring Street
Box Office (01482) 323638
'Jarry'
A rehearsed script-in-hand reading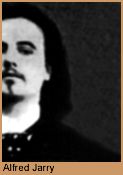 Alfred Jarry is best known for shocking Paris in 1896 with his controversial play Ubu Roi, but there was more to the man who created the foul-mouthed tyrant, Pa Ubu. Jarry was a poet, a novelist, an artist and a philosopher. A true original, his pet project was the development of a unique strand of cod science called Pataphysics. Like everything he did, Jarry's Pataphysics challenges the way we see the world. Hailed as the Father of the Absurd and a key influence on Dada and Surrealism, Jarry's legacy can be seen in Monty Python and Punk.
This exciting new play by locally based writer, Mike Carter, takes the lid off Jarry's turbulent life from his outrageous stunts and personal triumphs to addiction, despair and his struggle with the monster he created.
The play contains language and images which some may find offensive.
---
Monday 12th November

8.00pm £4 (Conc £2.50)
Sailmakers Arms Pub, High Street
Tickets on the door
Wrecking Ball Fringe Festival presents:
Fred Voss & Joan Jobe Smith (USA)
(Radio 4 Recording)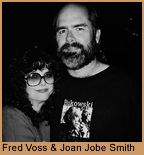 Fred Voss is a writer who REALLY gets his hands dirty: he doesn't just write about factory life, he LIVES it. He has driven up and down the California coast for 22 years, with a toolbox in his back seat, getting hired and fired by various machine shops, and writing about it in two collections of poetry Goodstone and Carnegie Hall with Tin Walls. Currently in England for his fifth tour, this is also his fifth reading in Hull and his second to be recorded by BBC Radio 4. He has been prominently featured in BÍte Noir (UK) and The Wormwood Review (USA). He lives in Long Beach, California, and is currently working in a 100-year-old factory in downtown LA, not far from where Charles Bukowski worked at the Post Office.
"Your poems about working at the machines, well, I liked them, understood them, sure" Charles Bukowski
Joan Jobe Smith, publisher of Pearl and the Bukowski Review, has published from Smith/Doorstop Trying on Their Souls for Size and The Pow Wow Cafť. In the UK & Ireland her work has appeared in many publications, including The 1999 Forward book of poetry, Penniless Press, BÍte Noir, and most recently The Reater.
---