6.30pm - 7.45pm FREE
Ings Library, Savoy Road (01482) 331250
For free ticket ring the above venue or the Central Library (01482) 210099
Hull Community Theatre presents:
'The Stealer of Stories'
for children aged 7 and over
What happens if a nasty character steals all the stories? A five part play based on traditional folk tales, including heroes, princesses, dragons, wicked stepmothers and many other fairytale characters.
---
Wednesday 14th November
7.00pm £5 (Conc £3.50)
Wyke College, Grammar School Road
Box Office (01482) 346347 Wyke College
Northern Theatre Company presents:
'Dan Billany: Hull's Lost Hero'
The Book and the Play

Find out more about the fascinating life of a local hero, the writer Dan Billany whose work was critically acclaimed by T.S.Elliott and published both in the UK and in America. Notably 'The Cage' and 'The Trap', written while he was a prisoner of war in Italy and published posthumously, became international bestsellers.
The play "HERO", based on the recent biography 'Dan Billany - Hull's Lost Hero', was performed at this year's Edinburgh Fringe Festival and received a three star review from The Scotsman.
Tonight at Wyke College a presentation by the writers of the biography is followed by a performance of HERO by members of Northern Theatre. Repeat Performance at Wyke College will be Thursday 15th Nov at 7.00pm
---
Wednesday 14th November
7.30pm £3.50 (Conc £2.50)
Film at Hull Screen, Hull Central Library
Box Office (01482) 327600
African Visions:
'The Golden Ball' (PG)
(repeat showing - see Tuesday 13th for details)
---
Wednesday 14th November
8.00pm £8 (Conc £6)
Hull Truck Theatre
Box Office (01482) 323638
A Fine Excess:
The Poetry Book Society Tour
"Poetry should surprise by a fine excess..." John Keats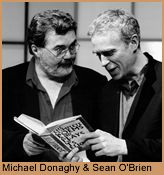 Inviting audiences to enjoy a selection of their favourite classic and contemporary poetry, acclaimed poets Michael Donaghy and Sean O'Brien challenge and illuminate popular ideas and preconceptions about poetry and its place in our lives.
The duo interweave readings of their own award-winning work with a judicious selection of favourite classic poems and commentary, creating a powerful and entertaining performance.
Donaghy and O'Brien will also play host to two special guests: internationally acclaimed writer Sujata Bhatt and popular local poet Peter Didsbury will join them to read from both their work and other poems which have inspired and influenced them.
A Fine Excess provides theatregoers with an ideal opportunity to hear and enjoy some of the best work of the past whilst getting a taste of some of our leading contemporary poets.
You don't need to know anything about poetry to enjoy the performance but even for the expert there are guaranteed to be a few surprises!
Michael Donaghy' is an acclaimed poet whose most recent award was the Forward Prize for Poetry for his new collection Conjure. He also teaches, and plays traditional Irish music.
Sean O'Brien's most recent collection, HMS Glasshouses, won the EM Forster Award and his new book Downriver is a Poetry Book Society Recommendation. One of the most gifted contemporary English poets, he is also a prolific critic and anthologist.
---