The Minerva Pub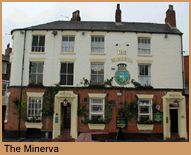 If the food at The Minerva was an essay I'd mark it 'sound' ie it arrived on time and delivered what was asked for. O.K. it wasn't gastronomically very challenging but there is only so much you can do with a Jacket Potato with Beans. Our dining companion Steve Regan ( See Hints from the Hacks ) pronounced his Spotted Dick "excellent", though he almost choked when I told him about one of the leading supermarkets changing its name to 'Spotted Richard' so as to avoid giving offence.
Apparently another diner was rather unlucky with his choice of 'Roast beef and Yorky' ( as in pudding rather than the chocolate bar, obviously ) On being told the latter was 'off', he asked for a Beef sandwich instead but was told that this was impossible. When he pointed out that both bread and beef were available he was informed that they 'didn't have a button for that'.
So, a slightly disappointing display of initiative at The Minerva which nevertheless provided a jolly good pint, prompt service and a friendly atmosphere. Its proximity to Double Vision's gym meant a gentle workout had originally been contemplated after lunch; however, lunch was rather a misnomer. It was more dinner as in a school dinner which sets you up nicely for a cross - country run or a jog up and down the hockey pitch. However, when we emerged mid-afternoon, a gentle turn along the pier seemed a much more sensible, and perhaps even healthier, option.