The Omelette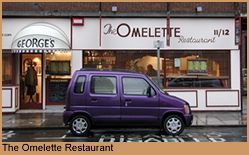 Just across the road from the Central Library, The Omelette is Hull's oldest restaurant. Apparently, 93 % of restaurants close within their first three years; George, The Omelette's owner, is the newly appointed Chair of The Restaurateurs Association so he knows these sort of things His clientele is varied - from itinerant theatre luvvies to regulars though none so regular as the customer who has had the same meal four times a week for the last fourteen years! Omelettes, of course, are on the menu but there are a range of other dishes to suit most tastes. George is passionate about food ( his main hobby is eating out) and places great store on its freshness. He shuddered at the mention of a frozen chip!
The great thing about this place is that you can pop in for a cup of coffee, have a three course meal or, as Double Vision did, just have starters and a carafe of wine before tottering off to a Lit. Fest event. Waitress service is unfailingly friendly ( they smile all the time! ) and daily newspapers and a saucer of sweets on the counter as you leave are nice touches . Unpretentious, The Omelette is one of the very few places to eat early evening in the city centre if you don't want fast food. Although you can order a virtual meal for a friend from its website we would recommend the real thing!
Opening times: 9am - 8 pm Monday - Saturday.
---