Coffee Shops - Newland Avenue
In my student days going for a cup of coffee meant slouching along to The Buttery ( now Staff House ) at the University on Cottingham Road. The more squashed at a table, the more popular you were. The floor was sticky, the noise unbearable, the atmosphere fugged with smoke and the toilets unmentionable. The coffee, indistinguishable from tea, hot chocolate or indeed vegetable soup, was served in a polystyrene cup and was grey. However, bear in mind that this was some time ago - a time when stuffing a green pepper was the height of sophistication and teaching looked like a really rewarding job. How things have changed and just as well they have! Newland Avenue was always good for shopping, with the emphasis on Cheap and Cheerful, but now it boasts a selection of coffee shops which seem to comfortably co-exist alongside its more established cafes.
Relax
By the railway bridge on Newland Avenue
Opening Times:

7.30 am - 5.30 pm 7 days a week.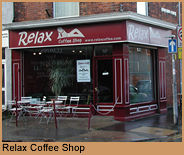 Relax opened in March of this year. Its owner, Andy Smith, had no background in catering but wanted a change of lifestyle that would be less stressful than his previous job as project manager. That explains the name then! Certainly, when Double Vision visited the couple playing chess typified the unhurried air of the place. Although Andy says that Relax is not particularly targeted at students, it does sponsor the Student Drama Society and has recently won a tender at the University to run a catering outlet at its Sports Centre. Leather settees, a limited range of snacks, good coffee and daily newspapers on hand make Relax very- well, relaxing.
---
Zoo Vegetarian Cafe
808, Newland Avenue 494352
Opening Times:

10 am - 6 pm Monday - Saturday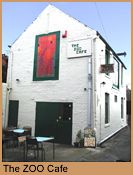 Zoo is behind Skeltons bakery and is surprisingly easy to miss, even with the banner over the side road which lead down to it. It has been open for six years now, so Pauline its co-owner told me, and for the last 3 years the upstairs room has been in use as well. Its popularity is hardly surprising, given the lack of local competition for good food, in particular vegetarian and vegan. It's not the cheapest place to grab a snack but the food is always fresh and well presented and the coffee excellent. In the summer my favourite item has to be their milkshake which are on offer in one flavour only - that of the fruit of the season. Consisting of just the pulped fruit and ice cold milk it's fab! Children are encouraged to put their scribblings and drawings up onto the walls and there's often music and noise. Because Zoo is a cafe rather than a coffee shop it's a bit more rough and ready - not somewhere for quiet contemplation but more for times when you want to feel included in the human race!
---
Planet Coffee
162, Newland Avenue 470056
Opening times:

Monday - Friday 8.30am - 9 pm
Saturday 8.30 am - 7 pm
Sunday 10am - 5pm
Planet Coffee has been open for the last two and a half years and has very much a student ambience. Not surprising given that it's at the University end of the Avenue and has another branch in the Student Union. This is not to say it doesn't have a wider clientele, its owner Graham insists, and undoubtedly this must be true for it to be able to survive in vacation time. Indeed, it has plans to expand into the property next door very shortly. Free coffee refills are one of Planet Coffee's attractions - the decor and furnishings another. Hot snacks are available, for example Chicken Spicey Pasta at £1.95, and a wide range of coffees. A good place for people watching, particularly if seated outside.
---