Reviews
Friday 2nd July
Zoo & Logical Times
Friday 2nd July
Increpacion Danza: Tablao
Thursday 1st July
Ruth Padel: The Soho Leopard
Tuesday 29th June
Hijinx Theatre: Into My Own
Monday 28th June
Soulskin presented by Red Ladder
Review by Toni
Sunday 27th June
Richard Vergette: An Englishman's Home
Sunday 27th June
Tim Hunkin: Illegal Engineering
Saturday 26th June
Straw Dogs: John Gray's Thoughts on Humans and Other Animals
Review by Toni
Saturday 26th June
Brian Patten: Gargling With Jelly
Friday 25th June
The Audience: The Worst Seat in the House
Wednesday 23rd June
Simon Crump: My Elvis Blackout
Monday 21st June
Geoff Dyer: Yoga for People Who Can't Be Bothered To Do It
{FestivalCritic}
Sunday 27th June 2004
A review of an Englishman's Home
Performed by Richard Vergette
Hull Truck Theatre
The play 'An Englishman's Home' was performed at Hull Truck Theatre on Sunday 27th June 2004. It seemed popular due to the large crowd that came to see the play. The set was simple, yet interesting. I did wonder if the set would be used and how. I did not have to wait long to find my answer.
The magnificent Richard Vergette captured the audience's attention straight away and never let it go. This helped the audience feel part of play, and made it easier to follow. The script was complex, but intelligently written. Parts of the play were flashbacks of events. The audience could have easily got lost, but Vergette guided them through so everyone understood what was happening. I wonder if this was his first acting experience, because it was brilliant.
Vergette used all of the stage, so the play did not feel like a monologue. He used the set remarkably and professionally.
Personal I found the story very touching and brave. Brave because it dealt with issues not normally encouraged to be expressed. I believe this made the story more appealing to me as it appeared more realistic.
The story was very strong and emotional, making it more suited for a mature audience. Nevertheless, it was fantastic and I would like to see Vergette act again.
Toni (16)
---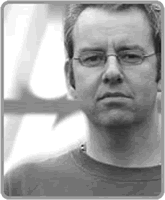 Dave Windass
Check out events through our website reviewer and send in your comments to [email protected]
Throughout the festival, Dave Windass will be posting reviews and comments.
He is a critic for the Big Issue, The Stage and a full-time journalist for the Hull Daily Mail.
Weblog: http://killingtime.crimsonblog.com *