Reviews
Sunday, 4th July
Illegal Media: Mute/Record and A Bastard's Tale
Friday 2nd July
Zoo & Logical Times
Friday 2nd July
Increpacion Danza: Tablao
Thursday 1st July
Ruth Padel: The Soho Leopard
Tuesday 29th June
Hijinx Theatre: Into My Own
Monday 28th June
Soulskin presented by Red Ladder
Review by Toni
Sunday 27th June
Richard Vergette: An Englishman's Home
Sunday 27th June
Tim Hunkin: Illegal Engineering
Saturday 26th June
Straw Dogs: John Gray's Thoughts on Humans and Other Animals
Review by Toni
Saturday 26th June
Brian Patten: Gargling With Jelly
Friday 25th June
The Audience: The Worst Seat in the House
Wednesday 23rd June
Simon Crump: My Elvis Blackout
Monday 21st June
Geoff Dyer: Yoga for People Who Can't Be Bothered To Do It
{FestivalCritic}
Saturday 26th June
Straw Dogs: John Gray's Thoughts on Humans and Other Animals
Hull Truck Theatre, Spring Street
John Gray has been accused of being a pessimist. The Professor of European Thought at the London School of Economics earned the tag with the publication of Straw Dogs in 2002. Yet, listening to his thoughts unfurl, especially those he has on Christianity, you do realise that he is a glass half-full man.
Gray just seems dismayed that world leaders can't see what he can see, that they are constantly making and remaking the same mistakes, that progress is cyclical, that the only thing that distances us from other animals (and, he insists, we certainly are animals) is that we are rather keen on several distinctly human activities - genocide, war and slavery.
With the ongoing problems in the middle east, Gray's views are a depressing reminder that we're on the road to oblivion.
His oratory style is all rather chatty. He looks a little like Peter Sellers, and, just stressing that he is a great thinker rather than a 1960s comedy legend, visually ruminates by popping his tongue in his cheek. There's nothing tongue in cheek about his words of wisdom, however.
Straw Dogs is scary stuff. Humans, says Gray, feel that their life is wasted if they don't change the world in some way. We have to make our mark. But, he adds, that's a harmful tradition and a mindset that we need to get out of.
Some of what he says is obvious. The war in Iraq isn't about terrorism, it's about oil, although unlike the first Gulf war politicians are in denial and convincing themselves that the war on terrorism is just and true. Most of us know already that what Gray says is true. Yet it's not really us that Gray is hoping to convince. He may be the thinker to let the genie out of the bottle but, it seems, he needs a bit of help to thrust that genie into the faces of the people that matter, our insane leaders.
After an hour, several of Gray's points are clear. Bad ideas - such as anti-Semitism - recur; there is no cultural evolution; mass media is contributing to a loss of memory about world-wide events; Darwinism is merely a prop that lets us imagine that we can choose to be whatever we want to be; hatred and anger are contagious; science enhances human power; he's quite a fan of Woody Allen.
Asked to predict what the future might have in store, Gray paints a clear picture. There will be more conflict over oil; climate change will happen earlier than we think; there will be an (even more) serious clash of civilisations.
Again, stating the obvious, Gray points out that the planet can't sustain global industrialisation - "A time comes," he sighs, "when you put more energy into extracting energy that the energy you extract."
So, with that and many other thoughts in mind, it's time to recognise that human cultures are not going to become one and it's better that they don't and that the notion that we can improve the world by war will never work.
Gray leaves us with his opinion that the worst types of missionaries are those that are armed in the name of democracy and freedom, trying to turn the entire world into a version of 1950s America. Such a shame that Gray and his ilk can't fight back on our behalf, and make themselves heard above the painful racket of conflict.
---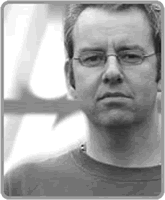 Dave Windass
Check out events through our website reviewer and send in your comments to [email protected]
Throughout the festival, Dave Windass will be posting reviews and comments.
He is a critic for the Big Issue, The Stage and a full-time journalist for the Hull Daily Mail.
Weblog: http://killingtime.crimsonblog.com *