Reviews
Sunday, 4th July
Illegal Media: Mute/Record and A Bastard's Tale
Friday 2nd July
Zoo & Logical Times
Friday 2nd July
Increpacion Danza: Tablao
Thursday 1st July
Ruth Padel: The Soho Leopard
Tuesday 29th June
Hijinx Theatre: Into My Own
Monday 28th June
Soulskin presented by Red Ladder
Review by Toni
Sunday 27th June
Richard Vergette: An Englishman's Home
Sunday 27th June
Tim Hunkin: Illegal Engineering
Saturday 26th June
Straw Dogs: John Gray's Thoughts on Humans and Other Animals
Review by Toni
Saturday 26th June
Brian Patten: Gargling With Jelly
Friday 25th June
The Audience: The Worst Seat in the House
Wednesday 23rd June
Simon Crump: My Elvis Blackout
Monday 21st June
Geoff Dyer: Yoga for People Who Can't Be Bothered To Do It
{FestivalCritic}
Friday 25th June
The Audience: The Worst Seat in the House
Hull Truck Theatre, Spring Street
I must admit that, during a decade of reviewing theatre, I've spent quite a bit of time observing audiences. I've never quite had the view of them I had on Friday night, though.
There I was, in the clever-clever post-modern position of sitting on a theatre seat that was located on a stage, facing the audience.
"You looking at me?"
For a while I didn't know because the lighting had been set up in such a way that I was staring into a blank, black space. Maybe there wasn't anybody there. Yet, when I'd wandered on and muttered "Evenin'", several of them responded. So, unless someone was playing a wicked audio game, I guessed there was someone out there.
Yes, I could hear them. Before the show proper began we played a twist on those "turn off your mobile phone" warnings that you get these days in theatres. It invited people to turn their phones on, to rustle their sweet papers and to talk as much as they liked. The responsive folk took this as a chance to hurl some early heckling in my direction. This wasn't a bad thing. One or two voices I recognised. I don't think my mother should have said what she said but I suppose she'd paid her £4 and that gave her carte blanche to express an opinion, no matter how bitter and twisted she is.
I had penned several jokes. The audience, or at least some of them, laughed. A lighting change eventually gave me the opportunity to take in the folk sat in the auditorium. They weren't as bad looking as I'd imagined and this came as something of a shock. Another shock was that, unlike some audiences that I've sat in that I've observed, they appeared genuinely interested in what was going on.
By the end of The Worst Seat in the House (which, incidentally, was about my life as a theatre critic) I had grown to love the audience. They gave me a relatively easy ride and responded well. Heck, I thought, let's do a question and answer session. This went swimmingly up until the point that an irate gent, who, I gathered, was displeased about something I'd penned in a weekly newspaper two years ago, joined me on stage to give me a good telling off. The rest of the audience laughed, assuming that this was all some elaborate set up. It wasn't. Bless 'em, they eventually realised when I hopped off the stage in a fit of panic and handed out the buffet food (an on stage prop) that had cost me several pounds earlier in the day. There goes my supper, I thought. But all for a good cause.
There are, or at least I'd always thought there are, strict boundaries between performer and audience. Unless you're invited on to the stage, dearest audience member, you shouldn't be up there. Keith Richards has swung the full weight of his Fender Telecaster at people's heads for less. Thankfully, the rest of those present didn't follow suit and have earned my respect. "I love you all," he said, in a fit of over-acting.
---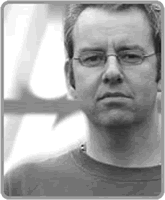 Dave Windass
Check out events through our website reviewer and send in your comments to [email protected]
Throughout the festival, Dave Windass will be posting reviews and comments.
He is a critic for the Big Issue, The Stage and a full-time journalist for the Hull Daily Mail.
Weblog: http://killingtime.crimsonblog.com *