Reviews
Friday 2nd July
Zoo & Logical Times
Friday 2nd July
Increpacion Danza: Tablao
Thursday 1st July
Ruth Padel: The Soho Leopard
Tuesday 29th June
Hijinx Theatre: Into My Own
Monday 28th June
Soulskin presented by Red Ladder
Review by Toni
Sunday 27th June
Richard Vergette: An Englishman's Home
Sunday 27th June
Tim Hunkin: Illegal Engineering
Saturday 26th June
Straw Dogs: John Gray's Thoughts on Humans and Other Animals
Review by Toni
Saturday 26th June
Brian Patten: Gargling With Jelly
Friday 25th June
The Audience: The Worst Seat in the House
Wednesday 23rd June
Simon Crump: My Elvis Blackout
Monday 21st June
Geoff Dyer: Yoga for People Who Can't Be Bothered To Do It
{FestivalCritic}
Friday 2nd July
A Review on Increpacion Danza: Tablao
Hull New Theatre
When the lights went down to signal the start of the performance I did not know what to expect, but was willing to keep an open mind. However, when the female singer started to sing it suddenly became clear that it was foreign. I have some experience of different languages but it sounded like moans and after a while she began to sound a bit hoarse, but I probably would too if I had been singing for an hour or so.
Nevertheless, accompanied with the fantastic dances and strange instruments it worked well and I could imagine the feelings expressed. At moments in the performance if you closed your eyes you could picture the waves as they break etc.
To begin with the background looked very plain as it was just white. Nonetheless, when a different dance took place a different moving background appeared. It made an old fashioned dance modern for a new audience. I believe it did this successfully.
Overall this performance was truly amazing and I would recommend people to go see it as soon as possible. It really does live up to its reputation.
Toni (16)
---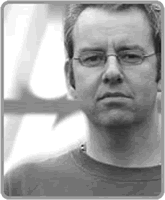 Dave Windass
Check out events through our website reviewer and send in your comments to [email protected]
Throughout the festival, Dave Windass will be posting reviews and comments.
He is a critic for the Big Issue, The Stage and a full-time journalist for the Hull Daily Mail.
Weblog: http://killingtime.crimsonblog.com *