Reviews
Sunday, 4th July
Illegal Media: Mute/Record and A Bastard's Tale
Friday 2nd July
Zoo & Logical Times
Friday 2nd July
Increpacion Danza: Tablao
Thursday 1st July
Ruth Padel: The Soho Leopard
Tuesday 29th June
Hijinx Theatre: Into My Own
Monday 28th June
Soulskin presented by Red Ladder
Review by Toni
Sunday 27th June
Richard Vergette: An Englishman's Home
Sunday 27th June
Tim Hunkin: Illegal Engineering
Saturday 26th June
Straw Dogs: John Gray's Thoughts on Humans and Other Animals
Review by Toni
Saturday 26th June
Brian Patten: Gargling With Jelly
Friday 25th June
The Audience: The Worst Seat in the House
Wednesday 23rd June
Simon Crump: My Elvis Blackout
Monday 21st June
Geoff Dyer: Yoga for People Who Can't Be Bothered To Do It
{FestivalCritic}
Saturday 26th June
Brian Patten: Gargling With Jelly
Hull Truck Theatre, Spring Street
It doesn't take long for Brian Patten to get a young audience on his side.
"I can do some slightly disgusting ones if you like," he said, seconds in to his performance of comic verse.
Of course, the young poetry lovers were up for that and, between the giggles, nodded their approval.
So that was that. Quickly launching into a poem about his invisible dog Leon (you never know what end you're patting, eurgh!) he had them (and possibly something else) in the palm of his hands. He had parents and older audience members too, liberating everyone present by encouraging us all to think like children.
When the Mersey Poet of yore asked us whether we had sisters we didn't get on with, arms of all ages shot into the air. Ooh, and then he had the audacity to ask the kids if they had parents that didn't listen. There's something about the cheeky Scouser and his imaginative ordering of words that takes you right back to childhood. "My parents didn't listen to me!" I almost piped up. If only I still had that confidence of youth that the three alongside me had, shouting, as they were, all the way through in all the right places.
Audience participation is de rigeur. When Brian put his fingers on lips during Miss Shush we all chipped in with a chorus of "sssssshhhhhhhh". We were all clever enough to work out the ending of The Trouble With My Sister. And we all revelled in Brian's mispronunciation of the word earrings, correcting him whenever he came out with the down right wrong "ear wings".
Patten is a great deal of fun, which is what young folk need. Yet watching him is not a passive experience because he also makes his audience think. In Catching Fish, the narrator is, while fishing, pondering on how to earn a good enough living to be able to give it all up to go catching fish. Misunderstanding the Mourners Intention is a quite splendid way to look at the death of a grandmother.
Patten also chucks in some of the work of others, delivering his own take on Allan Ahlberg's classroom classic Please Mrs Butler, a popular ditty that went down extremely well.
Patten is great, though, when he's hurling out his shorter works in a breathtaking spell that included Not All Owls Go T'wit T'woo and Playing Football With the Dog.
He even delivered lists and made them interesting. During Embryonic Megastars Patten urged his audience to count the number of instruments he mentioned. That they were keen to do it and argue with him when he reckoned they had counted one too many was a sign that he'd made a lot of new friends. The clamour for books at the end was proof, if it were needed, that he'd turned a good few of them into poetry fans.
---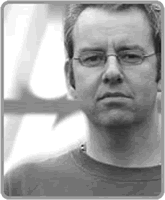 Dave Windass
Check out events through our website reviewer and send in your comments to [email protected]
Throughout the festival, Dave Windass will be posting reviews and comments.
He is a critic for the Big Issue, The Stage and a full-time journalist for the Hull Daily Mail.
Weblog: http://killingtime.crimsonblog.com *