Reviews
Friday 2nd July
Zoo & Logical Times
Friday 2nd July
Increpacion Danza: Tablao
Thursday 1st July
Ruth Padel: The Soho Leopard
Tuesday 29th June
Hijinx Theatre: Into My Own
Monday 28th June
Soulskin presented by Red Ladder
Review by Toni
Sunday 27th June
Richard Vergette: An Englishman's Home
Sunday 27th June
Tim Hunkin: Illegal Engineering
Saturday 26th June
Straw Dogs: John Gray's Thoughts on Humans and Other Animals
Review by Toni
Saturday 26th June
Brian Patten: Gargling With Jelly
Friday 25th June
The Audience: The Worst Seat in the House
Wednesday 23rd June
Simon Crump: My Elvis Blackout
Monday 21st June
Geoff Dyer: Yoga for People Who Can't Be Bothered To Do It
{FestivalCritic}
Monday 28th June 2004
A review of 'Soulskin' By Red Ladder Theatre Co
Ferens Art Gallery
Wow! The brilliantly scripted play, combined with modern technology made this a play not to be missed.
The strong acting from all three of the characters made the play realistic and helped the young audience relate to the issues brought up. The theatre company is based in Leeds making it quite local. By being local it has some idea of what is relevant to the local people.
The set was electronic, making the play more exciting. The use of film and images of texts and emails added more depth to the play. The play was about communication and the lack of it between family and friends. The use of texts and emails showed the modern ways in which people communication. The overall message of the play was that people do not communication face to face anymore, losing the closeness.
Marcia Banasko who played Chrissie is wonderful as the lead role. However, the play could not have been as strong without the supporting roles played by Amanda Healer and Fionnuala Dorrity. They all worked well together and this was seen on stage.
The play had been on tour for 12 weeks, but the standard of the acting had not appeared to drop. Watch out for these three amazing actresses in the near future, because they are going to be big.
Toni (16)
---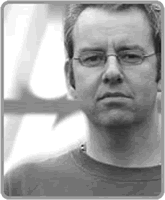 Dave Windass
Check out events through our website reviewer and send in your comments to [email protected]
Throughout the festival, Dave Windass will be posting reviews and comments.
He is a critic for the Big Issue, The Stage and a full-time journalist for the Hull Daily Mail.
Weblog: http://killingtime.crimsonblog.com *