Reviews
Sunday, 4th July
Illegal Media: Mute/Record and A Bastard's Tale
Friday 2nd July
Zoo & Logical Times
Friday 2nd July
Increpacion Danza: Tablao
Thursday 1st July
Ruth Padel: The Soho Leopard
Tuesday 29th June
Hijinx Theatre: Into My Own
Monday 28th June
Soulskin presented by Red Ladder
Review by Toni
Sunday 27th June
Richard Vergette: An Englishman's Home
Sunday 27th June
Tim Hunkin: Illegal Engineering
Saturday 26th June
Straw Dogs: John Gray's Thoughts on Humans and Other Animals
Review by Toni
Saturday 26th June
Brian Patten: Gargling With Jelly
Friday 25th June
The Audience: The Worst Seat in the House
Wednesday 23rd June
Simon Crump: My Elvis Blackout
Monday 21st June
Geoff Dyer: Yoga for People Who Can't Be Bothered To Do It
{FestivalCritic}
Sunday 27th June
Tim Hunkin: Illegal Engineering
Hull Truck Theatre, Spring Street
If there's a renaissance in the art of safe cracking the police need only knock on one door to find out why.
Tim Hunkin spent an hour at Hull Truck inspiring lots of young people to start fiddling about with locks and safes.
Naturally, in the interest of making everything look kosher and above board, he dressed up his chat and practical demonstration with a bit of a history lesson.
The origins of the safe, he explained, go back to medieval days, when people stashed their valuables in wooden chests. By the 15th century timber had given way to the more security tight material that is iron and, moving on to Victorian times, they were, as was everything else, riveted together.
In a riveting practical, Tim demonstrated why rivets weren't such a good idea, smashing his way through one, before explaining that this security flaw led to the introduction of bent steel corner safes.
To maintain the interest of budding criminals, Tim then explained how to weave your way into a Yale lock. Linus Yale Jr didn't much fancy following in his father's footsteps making bespoke locks and keys, preferring to design a lock that could be mass-produced. Yet, as Tim showed us all, they're rather easy to get into. All you need, I now know, is a couple of bits of bike spoke.
Tim reckons that safe breaking should be a sport these days. Now that you can't get anywhere near a safe because of all those fancy technological alarm systems that banks insist on installing, the trade is in danger of dying out and has been on the decline for 15 years.
Yet it won't be long before several Hull youngsters are hard at it, keen to follow Tim's advice that a diamond core drill - easily available over the internet and rather cheap at the price - is the perfect tool for drilling your way in to a safe. What we discovered along the way was that oxyacetylene equipment isn't that user friendly, that angle grinders can get through steel but not through concrete door linings and that cinematic depictions of safe crackers aren't 100 per cent accurate.
Tim, decked out in an eye-catching shiny silver tie, got several rounds of applause as he got through the lock and rotating barrel of his own safe on more than one occasion, using explosives, drilling and generally proving he knows his stuff. A cracking little show, in more ways than one.
---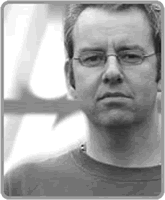 Dave Windass
Check out events through our website reviewer and send in your comments to [email protected]
Throughout the festival, Dave Windass will be posting reviews and comments.
He is a critic for the Big Issue, The Stage and a full-time journalist for the Hull Daily Mail.
Weblog: http://killingtime.crimsonblog.com *