Reviews
Friday 2nd July
Zoo & Logical Times
Friday 2nd July
Increpacion Danza: Tablao
Thursday 1st July
Ruth Padel: The Soho Leopard
Tuesday 29th June
Hijinx Theatre: Into My Own
Monday 28th June
Soulskin presented by Red Ladder
Review by Toni
Sunday 27th June
Richard Vergette: An Englishman's Home
Sunday 27th June
Tim Hunkin: Illegal Engineering
Saturday 26th June
Straw Dogs: John Gray's Thoughts on Humans and Other Animals
Review by Toni
Saturday 26th June
Brian Patten: Gargling With Jelly
Friday 25th June
The Audience: The Worst Seat in the House
Wednesday 23rd June
Simon Crump: My Elvis Blackout
Monday 21st June
Geoff Dyer: Yoga for People Who Can't Be Bothered To Do It
{FestivalCritic}
Saturday 26th June 2004
A review of Straw Dogs
By John Grey
Hull Truck Theatre
John Gray's talk at the Hull Truck Theatre on Saturday 26th June 2004 provided an insight into an older generation's opinions about modern affairs, focusing on the rapid development of science, and the lack of development of humans.
The talk was compelling, yet surprisingly appeared unplanned. This helped the audience to feel they could relate to the author, as it felt like he was talking one to one with each member of the audience.
The subjects Gray focused on were often history-based, preventing many people without that knowledge to fully understand essential points made.
As a young person I found the talk hard going, but was able to understand some of the points made, with studying History GCSE for two years. Gray would often side track, leaving a sentence unfinished and a point missed. Gray's talk went round in cycles, repeating the same opinions but in a different format. However, I believe the main target audience was adults with an intelligential ability to understand where Gray was coming from. The talk would suit students who are studying history, or older people with knowledge of the effect events they may have experienced had on humans.
Overall I found the talk thought provoking, but the talk went on a bit longer than needed. However, I would recommend going to the talk a couple of times so you can get all the points made by Gray.
Toni (16)
---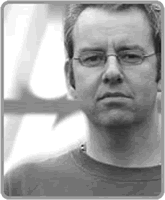 Dave Windass
Check out events through our website reviewer and send in your comments to [email protected]
Throughout the festival, Dave Windass will be posting reviews and comments.
He is a critic for the Big Issue, The Stage and a full-time journalist for the Hull Daily Mail.
Weblog: http://killingtime.crimsonblog.com *