Reviews
Sunday, 4th July
Illegal Media: Mute/Record and A Bastard's Tale
Friday 2nd July
Zoo & Logical Times
Friday 2nd July
Increpacion Danza: Tablao
Thursday 1st July
Ruth Padel: The Soho Leopard
Tuesday 29th June
Hijinx Theatre: Into My Own
Monday 28th June
Soulskin presented by Red Ladder
Review by Toni
Sunday 27th June
Richard Vergette: An Englishman's Home
Sunday 27th June
Tim Hunkin: Illegal Engineering
Saturday 26th June
Straw Dogs: John Gray's Thoughts on Humans and Other Animals
Review by Toni
Saturday 26th June
Brian Patten: Gargling With Jelly
Friday 25th June
The Audience: The Worst Seat in the House
Wednesday 23rd June
Simon Crump: My Elvis Blackout
Monday 21st June
Geoff Dyer: Yoga for People Who Can't Be Bothered To Do It
{FestivalCritic}
Thursday 1st July
Ruth Padel: The Soho Leopard
EICH Gallery, George Street
I admit it. I was ill-prepared for an hour in the company of Ruth Padel. I wasn't as aware of her as I should have been. I had failed to do any research. I didn't know I'd hang on her every word about tigers, leopards and Darth Vader.
I've since done some back-peddling. Realised that I was in the noisily air-conditioned room that is the EICH with a classical scholar that went on to win the UK National Poetry Competition, the former wordsmith behind the Sunday Poem column in the Independent on Sunday, that the woman in front of me had published six collections of poetry.
What I did know beforehand was that Ruth is a great-great granddaughter of Charles Darwin, which explained the animal fixation on its own before she told us, later, that she grew up surrounded by old books full of the wild creatures she adores.
Ruth looks and sounds like a poet. Fragile, long flowing neck scarf, a tiny voice that threatens to disappear until, that is, she starts, passionately, reading her work. Then, you just get so caught up in what she's saying that the outside world may as well stop.
There are, I quickly found out, lots of poems about urban foxes in the collection The Soho Leopard. 12 poems charting a year in the life of... It's a relatively new book and Ruth admitted that she is still "breaking it in", before enthralling all with The Totteridge Vixen, Playtime, Red Harvest and Straight Lines. By spring, we learn in the latter, just a third of the foxes born earlier in the year will survive. The average nine year life span of a fox is reduced to just two years for those that live the urban lifestyle.
Her voice and words slam together animal life with contemporary imagery, hence two appearances of the dark lord from Star Wars. And the humour is a joy. Just the title The Forest, The Corrupt Official and a Bowl of Penis Soup does it for me.
It was a poem from an earlier collection, Letter to Onegin, that snared me though. A reworking of Pushkin, it flits about from first person to third person narration and, unless I'm a mistaken fool, exposes a lot about Ruth's craft and lays her bare. Ruth loves playing with her voice. I just sat there thinking "wow" - something I didn't expect when I walked in to the vacuous, vast space in which we all threatened to rattle around in but that was, instead, turned into an intimate space by the poet.
So, what's it all about, this wild-meets-modern life business, this obsession with animals wandering through Soho, Kings Cross and the Louisiana wetlands, this combination of mythology and sensuality? "It's about trying to break new ground and say new things," she says.
Ruth Padel has certainly opened me up to something new. A joy and, for me, a revelation.
---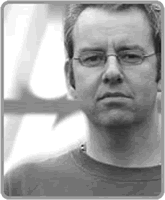 Dave Windass
Check out events through our website reviewer and send in your comments to [email protected]
Throughout the festival, Dave Windass will be posting reviews and comments.
He is a critic for the Big Issue, The Stage and a full-time journalist for the Hull Daily Mail.
Weblog: http://killingtime.crimsonblog.com *