Reviews
Sunday, 4th July
Illegal Media: Mute/Record and A Bastard's Tale
Friday 2nd July
Zoo & Logical Times
Friday 2nd July
Increpacion Danza: Tablao
Thursday 1st July
Ruth Padel: The Soho Leopard
Tuesday 29th June
Hijinx Theatre: Into My Own
Monday 28th June
Soulskin presented by Red Ladder
Review by Toni
Sunday 27th June
Richard Vergette: An Englishman's Home
Sunday 27th June
Tim Hunkin: Illegal Engineering
Saturday 26th June
Straw Dogs: John Gray's Thoughts on Humans and Other Animals
Review by Toni
Saturday 26th June
Brian Patten: Gargling With Jelly
Friday 25th June
The Audience: The Worst Seat in the House
Wednesday 23rd June
Simon Crump: My Elvis Blackout
Monday 21st June
Geoff Dyer: Yoga for People Who Can't Be Bothered To Do It
{FestivalCritic}
Date: 28th, June 2004
Review of Soulskin presented by Red Ladder.
Ferens Art Gallery
Red Ladder revolves around three people a grandmother, a mother called Bernadette and a daughter called Chrissie. These people all have their own problems. The play brings up many many issues to do with life. Displacement and not fitting in, Chrissie is not the most popular girl in school and her life at home isn't much better, she doesn't know where she is going after her grandmother dies, she quite simply is all alone. Learning to take responsibility for ones self, Bernadette or Bernie as she is nicknamed seems to be unable to take responsibility for her self, she doesn't care what she does; her life is just a waste. She can't seem to accept who she is and act upon it.
It is hard for Chrissie; she doesn't just have to support herself she has to support her mother. Chrissie isn't even eighteen but already she has plenty of responsibilities and with no one but her mother to confer with she finds it hard. Throughout the play you see memories, these were often portrayed through computer graphics or a short video through a projector. Overall this was a good play for demonstrating the issues people have to face in daily life
What made it even more impressive was the talk at the end, it was quite long but it gave even more of an insight into the story and talked about what might happen to characters after it. It let the audience express their views on the play so you as an audience understand the play more. The three actresses played their parts wonderfully and you couldn't fault any of it. All I have to say is that this was a good experience for me and I would presume for the other people on the audience. You could see that nearly everyone in the audience had a question to ask and no one left disappointed.
Carl,
14 years old.
---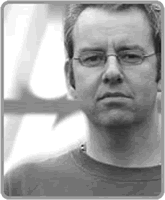 Dave Windass
Check out events through our website reviewer and send in your comments to [email protected]
Throughout the festival, Dave Windass will be posting reviews and comments.
He is a critic for the Big Issue, The Stage and a full-time journalist for the Hull Daily Mail.
Weblog: http://killingtime.crimsonblog.com *