Reviews
Sunday, 4th July
Illegal Media: Mute/Record and A Bastard's Tale
Friday 2nd July
Zoo & Logical Times
Friday 2nd July
Increpacion Danza: Tablao
Thursday 1st July
Ruth Padel: The Soho Leopard
Tuesday 29th June
Hijinx Theatre: Into My Own
Monday 28th June
Soulskin presented by Red Ladder
Review by Toni
Sunday 27th June
Richard Vergette: An Englishman's Home
Sunday 27th June
Tim Hunkin: Illegal Engineering
Saturday 26th June
Straw Dogs: John Gray's Thoughts on Humans and Other Animals
Review by Toni
Saturday 26th June
Brian Patten: Gargling With Jelly
Friday 25th June
The Audience: The Worst Seat in the House
Wednesday 23rd June
Simon Crump: My Elvis Blackout
Monday 21st June
Geoff Dyer: Yoga for People Who Can't Be Bothered To Do It
{FestivalCritic}
Zoo & Logical Times
Corona Smith kindly dropped a copy of issue 2 of the Zoo & Logical Times in at my place of work. The audio magazine arrived under plain wrapper, prompting much excitement in the office. The excitement turned to frenzy when I emptied the contents. 2 CDs! A natty little booklet! A shot-down half-sized copy of issue 1 to put this Humber Mouth Special Commission in context.
I quickly realised that Corona had a crazy streak. "Some of the print is very small and eye recommend the use of a good I glass," she adveyesed for issue 1 reading.
So, issue 2. A total of 55 tracks, a mish-mash of mashed-up spoken word, songs and didgeridooness. Corona invited people to submit field recordings, spoken word and experiments in sound and every contributor has embraced that broad brief.
I'll have to confess that, although I've listened to both CDs a couple of times (thus annoying the people I work alongside, as it was all tumbling out of my PC) I'm still a long way from taking everything in.
First impressions, though, are that there are some gems among the hideous noise and cut 'n' shunted 'n' bastardised Robert Kilroy Silk.
Coming out as an early favourite is Walter Ogleby and Andy Richardson's The Eugene Perm, an anecdotal interview about life in a hair salon so dull that it's fascinating.
There's also a stretched out intestine style mass of recordings of psychics at work by Baker Street (or at Baker Street, I'm not sure) - crazy ramblings on Princess Diana and a hamster called George and one psychic trying to convince a client that they hear voices. "No, I don't," comes the answer.
Of the two discs (one called Day, the other Night) Night is the more accessible. But I suspect that's not really the point. Much of it is good, some of it is annoying (my partner threatened to hurl the CD player against the wall after one track too many) and a lot of it - particularly that by Slippedisco - is just plain bonkers. Love it.
---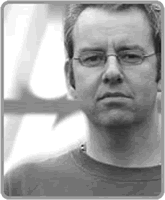 Dave Windass
Check out events through our website reviewer and send in your comments to [email protected]
Throughout the festival, Dave Windass will be posting reviews and comments.
He is a critic for the Big Issue, The Stage and a full-time journalist for the Hull Daily Mail.
Weblog: http://killingtime.crimsonblog.com *