Reviews
Sunday, 4th July
Illegal Media: Mute/Record and A Bastard's Tale
Friday 2nd July
Zoo & Logical Times
Friday 2nd July
Increpacion Danza: Tablao
Thursday 1st July
Ruth Padel: The Soho Leopard
Tuesday 29th June
Hijinx Theatre: Into My Own
Monday 28th June
Soulskin presented by Red Ladder
Review by Toni
Sunday 27th June
Richard Vergette: An Englishman's Home
Sunday 27th June
Tim Hunkin: Illegal Engineering
Saturday 26th June
Straw Dogs: John Gray's Thoughts on Humans and Other Animals
Review by Toni
Saturday 26th June
Brian Patten: Gargling With Jelly
Friday 25th June
The Audience: The Worst Seat in the House
Wednesday 23rd June
Simon Crump: My Elvis Blackout
Monday 21st June
Geoff Dyer: Yoga for People Who Can't Be Bothered To Do It
{FestivalCritic}
Monday 21st June
Geoff Dyer: Yoga for People Who Can't Be Bothered To Do It
Pave, Princes Avenue
Only a distant roar midway through a second reading reminded anyone present in Pave that England were playing the match of their lives in Euro 2004. Geoff Dyer had taken us beyond all those football shenanigans, transporting everyone in his company beyond Portugal and into southeast Asia.
Dyer, by his own admission a thin and manky bloke, read two rip-roaring passages from his ninth book - Yoga for People Who Can't Be Bothered To Do It - during his first visit to Hull. The attentive crowd was very healthy in terms of numbers. So healthy, in fact, that the writer checked immediately whether everyone was aware that the footie action was not to be screened at this venue. It was, he laughed, his greatest ever audience, given the circumstances. But, then, why wouldn't you turn up to watch someone as unique as Dyer?
The man is so self-deprecating and undermined by self-doubt that it's hard not to walk up and pat him on the back and tell him how great he is. Being told pre-show that he had plenty of time, he chose to inform us that that meant he had a chance to "drone on for quite a long time." If what he then did was drone, I'd happily sit and overdrone in his company.
Dyer, brave soul, selected a passage that he had not read before. It didn't show. The narrator of Yoga... is, like Dyer, a writer and traveller. The book, it became clear as the author read a lengthy section, is an exaggeration of his own experiences. The writer in question heads to a sanctuary on an Asian island, landing in a scene reminiscent of World War II and coming into contact with hallucinogenic drugs and a host of oddball characters that include Troy, who oozes bad memories out of his fucked up feet.
The first passage explained how the book, which is about Dyer's inner journey as much as anything else, got its name. "I've got an idea for a self help book for people that can't be bothered to do yoga," he explains to the beautiful Kate. To which she astutely responds, "But you can't be bothered to write it. Right?"
Revealing insights were also offered midway through the session. Dyer, whose prose is tricky to pin down and categorise although echoes Hunter S Thompson's glory days, admits that his narrator is merely a persona he adopts; that he manipulates what happens when he is on his travels in subtle ways. "Writing in the first person always came quite easily to me and gave me a kind of freedom to discuss the other people I meet," he explained. "But no one comes out looking worse than myself." He's also an idle man, keen on a free trip. One of his few jobs, outside of the writing, lasted a mere month. "That whole career path is not for me," he said.
Dyer is, importantly, a man that would hate to be either just a comic writer or just merely an author of serious prose. He has to be both. And is.
After several questions and a Pinteresque pause...the second piece followed. On a journey into Cambodia, where, having seen so many temples he is "templed out" our writer friend has to choose which suffering Cambodian child to buy a can of Coke from. One of the children, a young boy, has a wooden leg. "The boy stood for the whole of his country," said Dyer, as yet another laugh sprung forth.
What became clear, even after just two passages, is that the journey in the book is a coming of age story. There are differences in the state of mind of the narrator from one piece to the next. But it's all Dyer. "The 'I' in my books is never a tubby person," he'd said earlier. "It's always a long, manky person. There's always a skinny at work in there." He's out there too.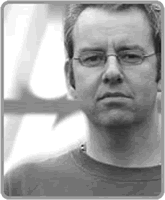 Dave Windass
Check out events through our website reviewer and send in your comments to [email protected]
Throughout the festival, Dave Windass will be posting reviews and comments.
He is a critic for the Big Issue, The Stage and a full-time journalist for the Hull Daily Mail.
Weblog: http://killingtime.crimsonblog.com *