Reviews
Sunday, 4th July
Illegal Media: Mute/Record and A Bastard's Tale
Friday 2nd July
Zoo & Logical Times
Friday 2nd July
Increpacion Danza: Tablao
Thursday 1st July
Ruth Padel: The Soho Leopard
Tuesday 29th June
Hijinx Theatre: Into My Own
Monday 28th June
Soulskin presented by Red Ladder
Review by Toni
Sunday 27th June
Richard Vergette: An Englishman's Home
Sunday 27th June
Tim Hunkin: Illegal Engineering
Saturday 26th June
Straw Dogs: John Gray's Thoughts on Humans and Other Animals
Review by Toni
Saturday 26th June
Brian Patten: Gargling With Jelly
Friday 25th June
The Audience: The Worst Seat in the House
Wednesday 23rd June
Simon Crump: My Elvis Blackout
Monday 21st June
Geoff Dyer: Yoga for People Who Can't Be Bothered To Do It
{FestivalCritic}
Illegal Media: Mute/Record and A Bastard's Tale
Online
Ah, bless the internet. What a wonderful tool for disseminating information. What an amazing method of spreading the word (and the world) of words worldwide.
Illegal Media have been working in partnership with a mental health centre and the result of that work - Mute/Record - along with Anna Pharoah's A Bastard's Tale have been broadcast live on t'internet for the duration of Humber Mouth 2004.
The sounds have travelled down telephone lines, arriving as a live stream every evening at 6.40pm.
I had saved these two gems to round off my tenure as festival critic. What better way, I thought, of starting to relax after a hectic few days reviewing than to huddle around my laptop and listen to a sound collage and a drama.
But, alas, the internet does not always allow dreams to come true.
I have every available media player installed on the machine I now type on. Real Player, Windows Media Player, Winamp, all reside right here, right now.
So as I sat, at 6.39pm on Thursday evening, refreshing my browser and awaiting a 'listen' hyperlink to appear in front of my eyes, I had no reason to doubt my equipment.
The hyperlink did appear and I quickly clicked on it. Winamp launched, and I started to salivate in anticipation. Then...all was quiet. It became apparent that Winamp wasn't making a noise. I did all the obvious - checked the laptop volume wasn't muted or turned down, that everything that should be connected was connected. But nothing.
Not to worry, I thought, I'll use another media player. But, no matter what I tried, there was no sound coming my way from the url www.illegalmedia.org. I finally gave up at 7.30pm, by which time, I surmised, the broadcast would have drawn to a close anyway. I later checked several other streaming audio websites and got them to work and looked forward to hearing Mute/Record the following evening. I'm still looking forward to hearing it one day because, on my return over three subsequent evenings, still nuttin' happened. I have now given up hope and apologise for the lack of constructive criticism or, for that matter, any criticism. Philip Barnes, Robert Cary, Aminah Borg-Luck, Anna Pharoah, Espen Jensen, Brian Hossack, Christopher Hill, Charlie Payne, Matty Kiviniemi, John Bates, Chris Gladwin and Jez Riley deserve more. But don't say I didn't try. And I'm sure it was a bloody good listen for someone.
---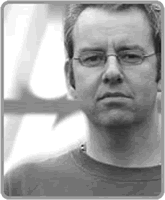 Dave Windass
Check out events through our website reviewer and send in your comments to [email protected]
Throughout the festival, Dave Windass will be posting reviews and comments.
He is a critic for the Big Issue, The Stage and a full-time journalist for the Hull Daily Mail.
Weblog: http://killingtime.crimsonblog.com *